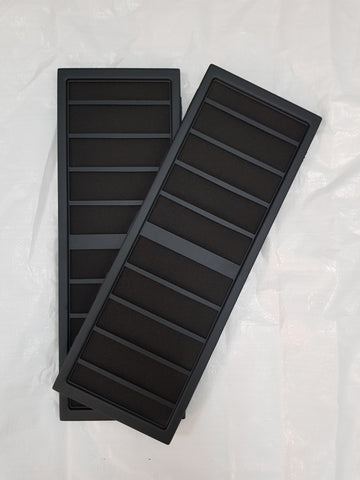 Domus HRX2D Replacement Filters
---
A pair of genuine Domus replacement filters to suit the HRX2D unit. These filters also fit the Silavent HRX2D.
The filters should be cleaned on a regular basis, the exact frequency will be determined by individual living conditions.
Before cleaning/changing the filters, turn off the appliance at the isolator switch.
To remove the two filters, pull out the two caps from the front of the appliance and gently slide out the filters in their carrier frames.
Lightly vacuum the filters to remove surface debris and then gently wash through in warm soapy water. Ensure that the filters are completely dry before refitting.
Important: do not dry on a radiator or use excessive heat as this will distort the carrier frames.
These foam filled filters will degrade over time.
---
We Also Recommend
---