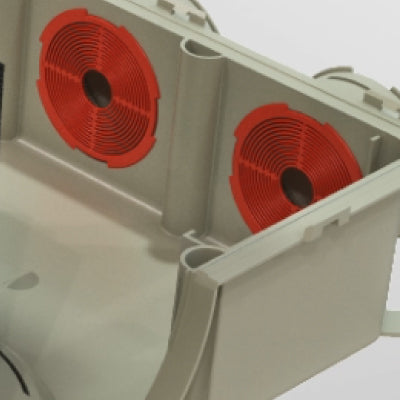 800 Series DBOX 800 AIR RESTRICTOR RING - BAG OF 10
---
Ubbink DBOX 800 AIR RESTRICTOR RING - BAG OF 10
The distribution box is an important part of the air distribution system. It controls the air capacity of the duct runs within the system. To control the air flow per duct run, adjustable air flow restrictors are mounted at the ductwork connections in the distribution box.
Superior system performance due to low pressure loss
6, 8, 12, 16 or 24 duct run connections for all possible installations
Elimination of cross-talk and HRV-unit sound
Multiple mass flow ductwork connection possibilities with EPDM seal-ring and bayonet-locking
Easy to clean the system and re-arrange the flow restrictors (renovation)
Please watch the below video for an overview of the 800 series distribution boxes.
https://www.youtube.com/watch?v=Ief6D7Ao5A0&feature=emb_logo
---
We Also Recommend
---