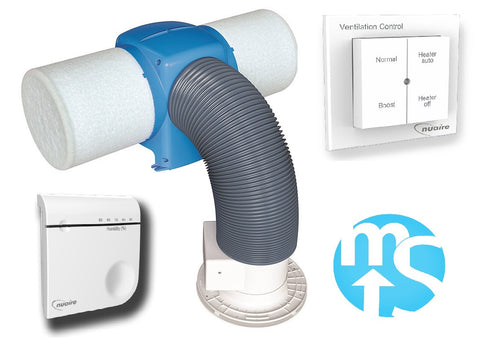 Nuaire Dri-Eco-Heat-HC Package *Dri-eco-heat, 4 way switch & Humidity Sensor*
---
The Dri-Eco-Heat-HC PIV complete with it's two most wanted accessories for a special package price.
Buy with confidence from our BPEC qualified team!
Item Descriptions:
DRI-ECO-HEAT-HC 
Fitted in the loft, out of sight and with no holes to knock through walls, the DRI-ECO-HEAT-HC is a non-disruptive installation making it an ideal solution for retro-fit projects.
Features and Benefits:
Cures condensation dampness
 - PIV removes humidity from the air, preventing mould growth and controlling dust-mite allergens.
Unique built-in heater - A 400w heater is attached to the ceiling diffuser in the loft, tempering the air before it enters the home. Unlike its counterpart in competitor products, this location ensures ultimate energy efficiency by warming the air just before it enters the property at ceiling level.
Improves indoor air quality - indoor pollutants from cooking and cleaning are removed while outdoor pollutants including traffic fumes, pollen and Radon gas are kept out.

Meets Regulations - meets Part F & L of Building Regulations as a low-energy ventilation strategy.
Easy installation and very low maintenance - filter clean or replacement every five years
System standby in summer months - when the loft temperature exceeds 23°C.
Health benefits - clinically proven to help allergy and asthma sufferers.
Hall Control - System controls located in the ceiling diffuser for easy access
Additional Sensors - Choose from a Carbon Dioxide detector, Remote humidity sensor as well as a 4 button switch that can be located anywhere in the home and allows the user control over the unit's boost function, as well being able to turn the heater on or off should manual control be desired.
7 year warranty - for peace of mind.
Remote Switch (DRI-ECO-4S)
This remote 4 button switch controls the running functions of both the Drimaster unit itself as well as the integral heater.
By splitting the control options the occupier is presented with the ability to choose the function that best suits their home.
Humidity Sensor (DRI-ECO-RH)
Nuaire's latest Relative Humidity sensor monitors the humidity levels within the home and instructs the unit within the loft to adjust the speed in order to maintain optimum comfort.
Next working day delivery if ordered before midday. If you require a VAT invoice, please put a note in the checkout box.
---
We Also Recommend
---