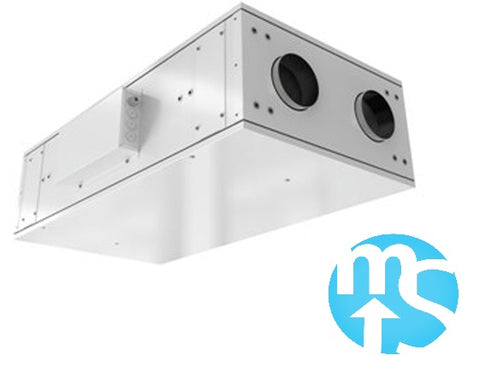 Systemair SAVE VSR 150B Heat Recovery System *MVHR Unit*
---
• High efficiency rotary heat exchanger with EC- variable speed rotor motor
• Energy efficient RadiCal-fans, with EC-technology enables very low SFP and low sound
• Moisture transfer function to minimize condensation to supply air in wintertime is available
• Demand control regulation as standard by the built-in humidity sensor in extract air
• SAVECair control with a capacitive color touch screen for easy use and commissioning
• Connection board inside of the unit for easy installation
• Modbus communication via RS-485 as standard
• Internet communication over the Systemair cloud (IAM) is available as accessory
• Inspection hatch on both sides
• Cooker hood connection
Heat recovery unit designed for ventilated areas up to approximately 100 m2. 
SAVE VSR 150/B is a unit with white painted double skinned panels and comes with complete control functions. The unit is equipped with a high efficiency variable speed rotating heat exchanger and a moisture transfer function that regulates the rotation speed of the rotor due temperature and moisture transfer back to supply air. Energy efficient fans with EC motors as well as low pressure filters reduces the energy consumptions and gives low SFP factor (Specific Fan Power) and low sound. The built in humidity sensor in extract air can be used for demand control.

The unit can be mounted on the wall or in the ceiling. 
A duct from the cooker hood can be connected to a separate bypass duct on the unit, so the air from the cooker hood is led straight to the exhaust fan and not through the heat exchanger in the unit.

Anti-vibration ceiling mounting brackets and inspection doors on both sides makes the unit easy to place and clean. Filters can be changed by easy access on the side of the unit.
All settings and features are available from the SAVECair control panel that connects to the side of the unit and can be positioned on the wall or on the unit. The panel is a color touch screen with a user friendly interface. The option for connecting one or more external control panels is available. Also control panel has separate user level for authorized installers and service personnel.
The homepage of the control panel shows information such as airflow, temperature, air quality and active functions. You can select between MANUAL and AUTO mode or choose preferred settings from the pre-configured user modes.
SAVECair AUTO mode has many functions available that regulate the airflow according to CO2, presence, humidity, schedule etc. The demand function control gives effective and economical operation to ensure best indoor air quality. Alarm symbols will indicate possible malfunctions and issues direct alerts if anything needs to be rectified.
The unit comes with built-in electric reheater.
The unit is provided with a connection board that has prewired inputs and outputs for easy installation and setup of external sensors as well as for external heaters / coolers.
The unit is delivered with low pressure panel filter F7/ePM1 55% for supply and G3/Coarse 50% for extract air. Panel filter G3/Coarse 50% for supply air is available as an accessory.
PLEASE NOTE: This item may take slightly longer than the shipping time described as they are made to order. Please contact us for further details.
---
We Also Recommend
---