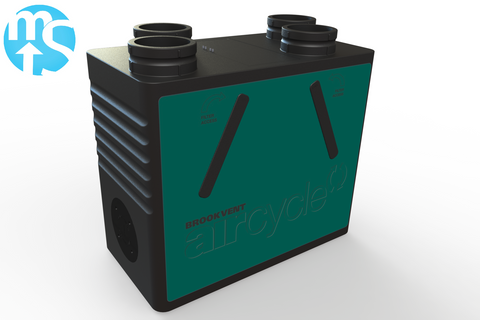 Brookvent Aircycle 1.2 Wall Mounted SB Whole House MVHR System
---
Combining market leading heat exchange efficiency with extremely low energy usage,
the aircycle 1.2 provides superior air comfort levels whilst minimising heat wastage.
The aircycle 1.2 operates by recovering heat from air that would normally be expelled into the
atmosphere. This heat is transferred to fresh air drawn into the property, which is then filtered and
distributed throughout.
The aircycle 1.2 can significantly reduce the space heating bill of a domestic dwelling, whilst also
delivering a healthier and more comfortable environment for the occupier. The aircycle 1.2 eliminates
many issues caused by poor indoor air quality within the home such as condensation and the
resultant formation of 'black mould'. Additionally, the advanced air filtration system ensures the home
environment is much more conducive to allergy and asthma sufferers alike.
This model has the optional summer bypass fitted.
Dimensions 583mm x 600mm x 337mm
Materials Main enclosure: Impact Resistant EPP (Expanded Polypropylene)
PCB Enclosure: Nylon 6 V0
Filters: Polyester Media (G2/3)
Mounting Bracket: Zinc Plated Steel
Supplied with a flying lead
Controls Extremely efficient in-built control board (SAP Q Approved)
Independent Fan Speed Control (Trickle and boost settings for each fan)
Single 240v boost input (Light Switch, Humidistat, PIR, etc) 15 Min Over-run
In-built Humidity Sensor (Boost activation) Variable: 60% - 90% RH, Factory Set: 70%
Frost Protection, Variable Activation: 0 – 10 Degrees Cel., Factory Set: 5 Degrees Cel.
'Tempering' Summer Bypass (Variable between 20 and 27 Degrees Cel.)
Standards Fully complies with Building Regulations for UK & Ireland | SAP Q Approved
Energy Savings Trust Best Practice | CE
Specific Fan Power: 
From 0.53 w/l/s
Heat Recovery Efficiency: 
Up to 93% Efficiency
Guarantee Period: 
5 Years
---
We Also Recommend
---