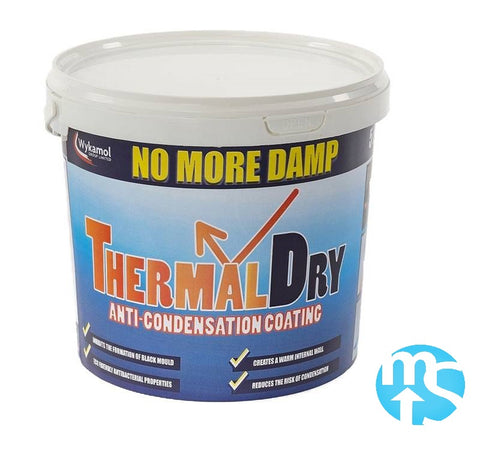 Wykamol Thermaldry Anti-Condensation Paint 2.5l Tub
---
Thermaldry Anti-Condensation Coating is both thermally insulating and water repelling.

It increases the wall temperature, therefore preventing the formation of condensation and mould growth.
It is a styrene acrylic copolymet dispersion, water based paint.
Thermaldry incorporates Micro-Technology in the form of hollow glass beads, with a size of 50um and a crush strength of 500psi. The micro, hollow glass beads act like miniature 'Thermos Flasks', blocking thermal energy by reflecting it away from the wall and protecting the walls from damp, which causes moisture and therefore mould growth.
All of these properties combined enables Thermaldry to increase the wall temperature, thus reducing the 'dew point' or the temperature at which condensation occurs.
Coating is waterproof when dry and walls are warm to the touch

Prevents formation of black mould and other harmful fungi

Reduces the risk of condensation

Reduces thermal conductivity by 4 times, saving energy and fuel costs in your home

Increases the life of your chosen paint or wall paper finish

Can be applied over existing paint or wall paper, plaster, brick, concrete metal and plastic

Can be painted or wall papered over with any finish, without reducing its effectiveness

Suitable for any interior wall - particularly exterior facing walls, bathrooms and kitchens

Eco-friendly, antibacterial properties
Coverage
10 - 12 m² (two coat application) per 2.5l tub


Storage
Store off the ground and in dry, frost free conditions, between 10°C and 30°C


Shelf Life
12 months when unopened, undamaged and stored correctly
---
We Also Recommend
---